CharterSource Board Management System
Understanding the limited time board members have available, we not only provide the technology but also the tools and resources. With over 300 sample dashboards, templates, notable studies, and articles, we help you govern effectively including 10 hours of annual governance coaching via phone or email. And embedded in the portal is our Board Basics Webinar Series to make board training flexible and accessible to accommodate busy schedules.
We understand how boards work and how to help boards operate more efficiently and effectively. Our partnership with Board Effect provides a board management portal to simplify and minimize board logistics. It provides the features and functionality you need in a highly secured platform with unlimited 24/7 support.
Our belief at CharterSource: Better Systems. Better Schools.
For more information, please contact us.
CharterSource Portal Perks
Systems Management – one sign-in experience to manage board systems including assembling board books, skills assessment, leader performance review, training, and board self-assessment. Limited to 20 users; incremental fee structure available.
Board Training – our Board Webinar Series features over 25 webinars including state-mandated training with a tracking system for compliance reporting
Administrator CEU Credits – approved provider by the Board of School Administrators
Board Chats – virtual board and leader peer discussions featuring local experts
Discount on Peer Learning Communities – discount on programming for our New Board Chair, Diversity, Equity and Inclusion Series and Operations Leadership Program
Resource Library Access – board templates, leader and board evaluation processes, sample dashboards, and guiding board frameworks
Policy Learning Lab and Library – over 250 sample policies including the opportunity to build out automation of review process
Governance Support: 10 hours of board governance phone and email support annually
Technology Support: 800# board portal technical support available 24 hours a day/ 7 days a week
Discount on training and governance assessments
Multiple Platforms: Available on multiple platforms from your phone, laptop, or desktop. Secure, easy-to-use, and mobile
Annual Fee $3500

Elevate Your Organization's Performance
BoardEffect board management software drives efficiency, effectiveness and engagement among board directors, executives and administrators.
More than 2,000 leading organizations use BoardEffect to manage board-related information online and advance the work of their boards. Educational institutions, hospitals and healthcare systems, nonprofits, foundations, government entities, companies and many others leverage BoardEffect to support the dynamic, nuanced, critically important work of governing bodies.
Designed Around the Work of Boards
The work of boards is complex, demanding, and high-stakes. It is also cyclical in nature. Boards convene on a regular meeting cycle, deliver on a recurring set of annual responsibilities, and continuously work to refresh and strengthen themselves as strategic assets to the organizations they serve. These represent three different operating cycles, each with its own pace and components. The functionality and workflows of BoardEffect have been designed to support boards as they manage the responsibilities inherent within these demanding, interdependent, and mission critical cycles. Key capabilities include: dynamic agendas, one-click board books, flexible work spaces, collaborative scheduling, customizable security and permissions, and personalized dashboards.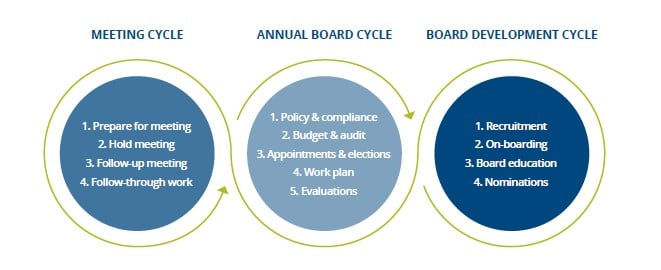 Your Mission. Our Solution.
A high-performing board of directors can be an educational institution's most valuable asset. Contact us to learn more about how BoardEffect can help your board leverage technology to support the full range of responsibilities of board governance.
I wanted to send a quick note and tell you how much I like BoardEffect. It is so easy to use and has been very helpful in communicating with the board? Thank you so much for your work on this project.
As a volunteer, I appreciate the school adopting a very professional tool. It makes me more accountable because you know where the documents, the schedule and the meeting materials are located. There are no excuses for not being prepared and it is very easy to navigate
This has saved me an enormous amount of time and paper! Board members greatly appreciate how organized we are in delivering board material.